One thing we can always count on about living in Arkansas is extreme temperature! How does the old saying go? If you don't like the temperature wait 5 minutes and it's sure to change. Temperatures in Jonesboro, AR and the surrounding areas can be quite brutally hot in the summer and frigid in the winter. Many folks rely on portable air conditioners and window ac units to stay cool because of the cost of installing a central HVAC system, but what if we told you that you don't have to do that?
Whether you're looking to replace your window air conditioner for good or replace an existing HVAC system, the cost can be a significant expense and often happens when you least expect it. Our goal is to offer convenient payment methods and options to fit every family's budget. We want to take the stress out of the situation and make your home as comfortable you want it to be. Keep your money in your piggy bank where it belongs.
Ask our comfort specialists for more information or call our office at (870) 565-4579. We can help you find a plan that is right for you.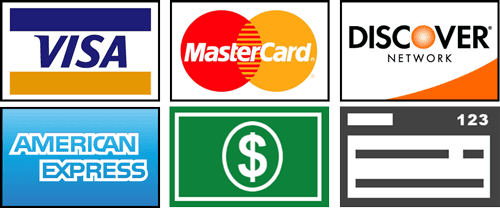 We accept Visa, Mastercard, Discover, American Express, Cash, and Personal Check as payment. Financing options are also available for qualified buyers.