Annual Maintenance
PROTECT YOUR INVESTMENT WITH OUR PRO CLUB MEMBERSHIP
Start Now and Save
There is nothing better for your heating and/or air conditioning system than annual maintenance. Annual maintenance allows your system to work at peak efficiency year in and year out. A system that is maintained annually experiences considerably fewer breakdowns.
This virtually eliminates the need for you to pay for costly repairs. You'll enjoy the peace of mind in knowing that your system is saving you money on your utility bills every time it comes on. In some instances, the energy savings are enough to pay the cost of the planned annual maintenance service.
When you purchase a Pro Club Membership, you're making an investment in the future of your HVAC equipment. You're also providing your family with peace of mind knowing that you have the Pros by your side if you need us. With our priority service guarantee, you're family will always be comfortable in your home. That's our promise to you.
How the Pro Club Membership Works
Receive two yearly Precision Tune-Ups at no extra charge (excludes major cleanings such as blower assembly, indoor coils, major tear downs)
Scheduled Reminders
Extended warranties on repairs as long as you remain a member
Experience less downtime by diagnosing problems early
If breakdown occurs within 90 days of maintenance, receive $50 credit in addition to other discounts
Priority service (ahead of the line)
After hours / emergency / holiday service guaranteed
Early access to promotional offers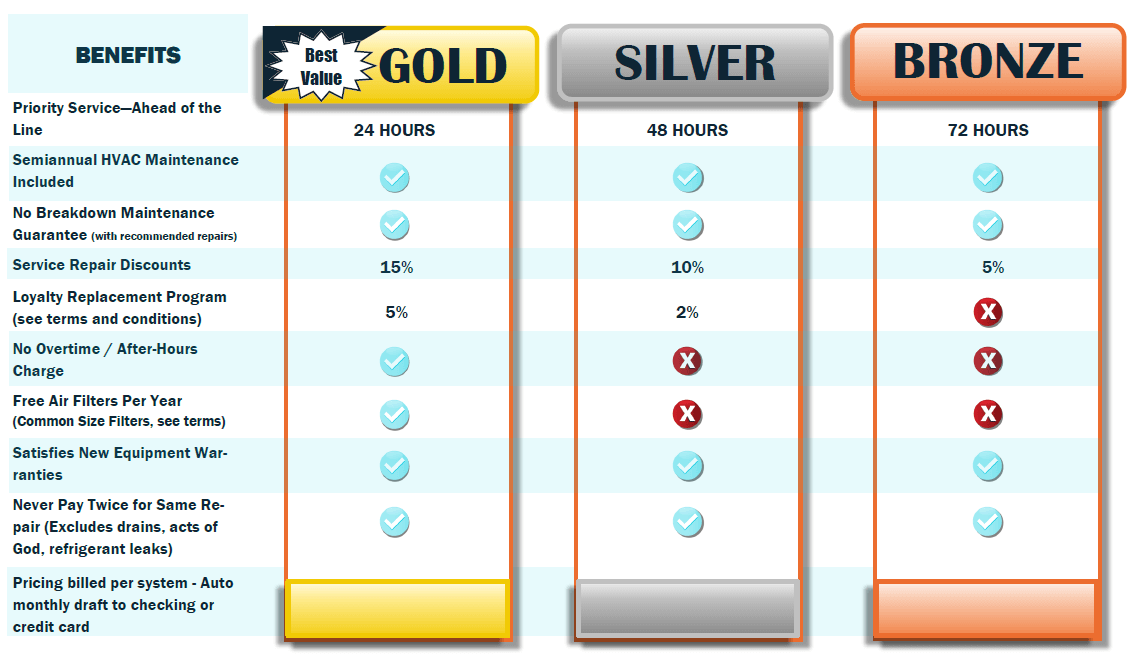 ***Terms and Conditions: All discounts are available only as long as the plan remains active. Davis Pro Heat & Air, LLC cannot be held liable for vendor shortages or other supply chain issues and no credits or allowances will be made for issues beyond our control.***
WHAT OUR PRO CLUB MEMBERSHIP Tune-Up Includes:
Check evaporator coil
Lubricate fan motor
Set manifold pressure
Monitor expansion valve
Check start and run capacitors
Test fan limit switch
Clean evaporator drain
Check start and run delays
Clean blower wheel
Adjust bypass dampers
Monitor refrigerant level
Inspect valves
Clean or replace filters
Adjust operating pressures
Check flue
Tighten electrical connections
Check flame baffle
Evaluate safety controls
Measure amperage draw
Clean combustion chamber
Measure temperature difference
Clean and adjust burners
Clean heat exchanger
Clean condenser coil
Evaluate vent system
Test thermocouple
Adjust thermostat calibration
Set burner adjustment
Check combustion air
Check fan blades for tightness
Measure gas input
And more...
24/7 Emergency Service - Service at your convenience not ours!
Let us serve you by taking over your equipment's required maintenance.
We service nearly every type and brand of heating and air conditioning equipment.